How to support your child at home, maths calculations and manipulatives guidance, information for parents/carers.
Click Here to View Ainderby Steeple Calculation and Manipulatives Progression Guidance 2022
Follow this link to access family maths resources from National Numeracy Day 2023:
https://www.nationalnumeracy.org.uk/free-family-maths-toolkit
Click here for links to ideas and tips for fun Maths activities and games at home with your child.
New Reception Parents:
If you were unable to attend the new parents meeting on 20th September 2023, please click new parents meeting 22.09.23 to access the information leaflet from this event.
Intent
At Ainderby Steeple CE School, our intent for Mathematics is to teach a rich and progressive and appropriately challenging curriculum. We want our children to use mathematical skills to reason, problem solve and develop fluent conceptual understanding, and to be able apply these independently across the whole of their learning as well as discreet maths lessons.
We aim to challenge pupils and encourage them to take ownership of their learning, developing their responsibility and resilience. We want our pupils to celebrate their mathematical successes and be honest about what they find difficult – seeing overcoming difficulties as an essential part of the learning process.
At Ainderby, we intend to deliver lessons which are fun, engaging and practical.  We want all of our pupils to be confident mathematicians, with an enjoyment of the subject and a 'can do' attitude.
What does maths look like at our school?
Implementation
Planning: The progression of Mathematics across school is in line with age-related expectations based on National Curriculum 2014 and supported by White Rose Maths Hub 3.0 medium-term planning.  Long-term planning is adjusted appropriately by teachers to ensure small steps are fully understood and full curriculum coverage is achieved in time for end of key stage assessments in Y2 and Y6.
Planning for success in Maths starts with our youngest pupils, where Mastering the Curriculum (linked to the White Rose scheme of learning for Reception) is used by staff to ensure Foundation pupils cultivate an enjoyment and enthusiasm for Maths through playful exploration.
Teaching: The School is committed to developing a mastery approach to the teaching of mathematics and is working closely with the NCETM Yorkshire Ridings Maths Hub – please see the diagram below for details of the 5 Big Ideas of Mastery which shows our priorities for the teaching and learning at Ainderby Steeple CE School.  We are currently in the second year of a 4-year journey and have taken significant steps to develop our curriculum and deploy our staff most effectively to meet learning needs.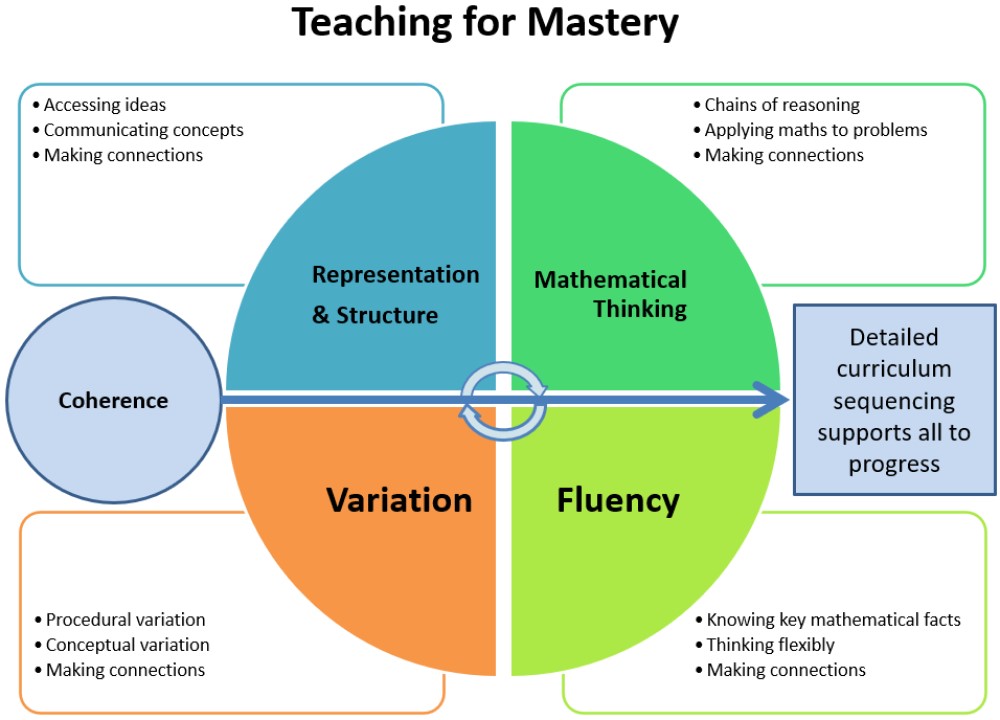 Teachers use the White Rose Maths 3.0 scheme of work to deliver quality teaching and learning opportunities through single year-group teaching inputs. All staff are mindful of the needs of pupils when planning lessons and interventions to ensure appropriate scaffolding (Concrete Pictorial Abstract – CPA) so that all pupils access the same learning opportunities and are encouraged to develop their mathematical thinking.
Concrete – Pictorial – Abstract progression model:
The pace of the curriculum may be adapted to ensure secure understanding – for example spending additional lesson time on certain 'small steps' to ensure children's understanding is secure, allowing them to build on prior learning as a platform for new knowledge and making links across the curriculum. As mentioned above, long-term planning is reviewed as needed to ensure full curriculum coverage is achieved and the curriculum is ambitious for all pupils.
Fluency: Across school, from Reception to Year 6, we have timetabled a daily 15 minute Maths Fluency session. For the majority of pupils this is in the afternoons after Reading for Pleasure.
Reception to Year 2: NCETM Mastering Number Programme (featuring links to BBC Number Blocks).  This is an evidence-based approach to securing key number facts for our youngest pupils as a secure foundation for their future Maths learning.
Years 3 to 4: Number Sense Maths Times Tables Fluency Programme (Clare Christie). This programme uses repetition and chanting to build oral memory of the 32 key facts needed for secure times tables recall.  It is proven to improve outcomes at the Y4 Multiplication Tables Check (MTC) and is recommended by the Yorkshire Ridings Maths Hub.
Year 5 to 6: Fluent in Five (Third Space Learning). Through daily repeated practice of calculations, children are given opportunity to revisit prior learning and secure their written and mental methods.  Teachers assess which year group materials are most appropriate to the individual learner to enable success and secure recall.
In some cases, pupils may access fluency sessions in another year group. This is to give opportunity to close knowledge gaps and enable rapid catch-up.
Early Bird Maths, Year 1 to Year 6: During Registration and before Collective Worship, pupils are encouraged to engage with a series of short maths questions taken from the White Rose Flashback 4 slides.  Teachers will select the slides most appropriate for each group of pupils. This is another opportunity to recall and apply prior learning and supports pupils to embed knowledge to their long-term memory.
Homework: Pupils from Reception to Year 6 will receive regular maths homework.  This is designed to provide opportunity for additional practice to cement procedures and apply reasoning by revisiting prior learning.
Reception to Year 2 – a short homework task related to their Mastering Number fluency work or another topic covered in their weekly maths learning.
Years 3 to 6 – a task selected from the CGP practice book for their chronological year group.  If pupils are regularly accessing pre-teach interventions, their work will come from the CGP Foundation book for their chronological year group.
Please note, some pupils may not be given additional maths homework tasks.  This is to avoid cognitive overload for those children requiring additional support to access the curriculum.
Please follow the link at the top of this subject page if you would like further information on ways to support your child's Maths learning at home.
If you have any questions regarding your child's homework, please address these to the class teacher in the first instance.  You may also like contact the Maths Subject Leader via the school office.
Marking and feedback: This is designed to support children to know what they need to do to improve and may be given verbally or through marking of work in accordance with the Marking and Feedback Policy 2023.  Older pupils are encouraged to peer and self-mark.
Assessment: We use White Rose Maths end of unit and termly assessments to track the progress of our pupils and ensure that gaps in understanding are identified. Interventions are put in place quickly to support those at risk of falling behind age-related expectations.
Interventions: We have implemented use of the NCETM's Ready to Progress materials (Y1-Y6). Working with small groups of children to enable rapid progress and bridge knowledge gaps so that pupils are able to access the learning within their chronological year group.
In addition, regular small group or 1:1 pre-teach sessions ensure that all pupils have the confidence to fully participate in the main Maths lesson. These pre-teach sessions may be provided for different groups of children across the various maths topics, based on the assessment of the class teacher.
SEND: Where SEND is identified, teachers work closely with the school SENDCO and parents to ensure appropriate scaffolding and interventions are in place to enable pupils to succeed and feel confident in their Maths learning.
Moderation: We have a rolling programme of in-house monitoring which includes work scrutiny, pupil conferencing, lesson observations, learning walks and presentations to governors. We also engage with inter-school moderation across the Dales Academy Trust.
Opportunities to celebrate maths
Marvellous Mathematician Certificates celebrate our pupil's achievements in Whole School Collective Worship. There is an opportunity for one child from each year group to receive this award weekly.  In addition, children are regularly awarded team points in lessons in recognition of their resilience in learning and perseverance with explaining their reasoning.
Impact
We strongly believe that every child can think mathematically and enjoy success in their maths learning.  The impact of our mathematics curriculum is that we are creating a wholesome learning environment where Maths is fun and relevant and in which it is OK to make mistakes. Our children want to be the best mathematicians they can be and are willing to 'have a go.'
By using a range of activities and resources in maths lessons, our children are given opportunity to use and apply mathematical facts. Regular recall of prior learning helps to embed essential facts so that children are able to access new learning. Creative and carefully planned use of a variety of equipment and strategies (including concrete, pictorial and abstract representations – CPA) helps children to choose the calculation method best for them and to understand the maths needed to solve a problem. As a result, children are developing their mathematical resilience and their ability to articulate their understanding.
In 2022, 67% of pupils achieved Expected Standard in KS2 mathematics.
Quotes from our children
"Maths is fun. I like how the teachers make it easy for us to understand."
"I like not being by myself in lessons.  I am able to talk to my friends about maths and it helps me to learn."
"I like working with Miss … in my small group.'
"I like the variety of questions we are asked in maths lessons and that they get more difficult."
"My pre-teach helps me because I know what to expect in the lesson."
Whole School Progression Documents
Number and Place Value Progression
Addition and Subtraction Progression
Multiplication and Division Progression
Fractions, including decimals and percentages, Progression
Ratio and Proportion Progression
Geometry, Properties of Shape Progression
Geometry, Position and Direction Progression
Long-term planning
The subject leader for Mathematics is Mrs L Kargar.